37 Keys Big-fun Piano Keyboard Toy With DC Power, Mic and Recording Function-1
Price list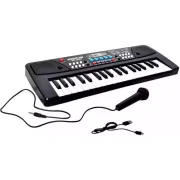 37 Keys Big-fun Piano Keyboard Toy With DC Power, Mic and Recording Function
---
Related Products
Colour: Black
Electronic Keyboard for kids and beginner
Features: 37 keys and 8 tones, 8 rhythms, 4 percussions other functions of various instruments
It includes 1 speaker.
Material: Plastic high quality with sleek design and soft springs for easy push and play by small kids.
Multiple function as kids can play piano and also can sing song with mic and enjoy songs.the rhythm and
Best for growing kids to engage in good culture of learning music and singings. Convenient to use and develope kids intelligence.
Free play and variety of music available such as piano, sax, flute, violen, bell, banjo and guitar.
Comes with power adaptor.