3D Print Moon Lamp, Usb Charging 3-Color Changing Led Energy-Saving Night Light With Wooden Holder BaseABCD
Price list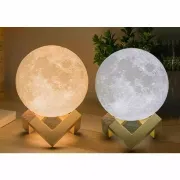 3D Print Moon Lamp, Usb Charging 3-Color Changing Led Energy-Saving Night Light With Wooden Holder Base
---
Related Products
3 Mode Changeable Color: White, Warm and Colorful Light. Through the vibration switch to change color to the moon. Color change is as follows: First Tap–Open (White), second tap–Warm yellow, third tap–Seven colors Auto change, Close. Newest technology, easy operation.
Unique Design: The moon lights with a quiet breathing effect, under the condition of white or golden light.
3D Printing Technology: Luna lamp is made by innovative 3D printing technology, based on photos captured by NASA satellite, layer-by-layer stack, restores the real appearance of the moon. Built in rechargeable lithium battery, with LED dual color light effect, give you surprise that you must be handing a real moon.
Environmentally Friendly &Safe and Reliable: This Lamp is Made of Eco-Friendly PLA Material— PLA, is a new type of bio- based and biodegradable material, extracted from maize straw, non-toxic and odorless, hard and smooth. Adopting Low Voltage USB Charging and Energy Efficient LED Light Bulb, The Lamp Stays Cool Even after Long Time Use, and Gives Off Flicker-free Soft Light Which Would Not Hurt Eyes.
Best Gift & Home Decoration: The brilliant 3D moon light design brings you mystery and romance, ideal creative decorations for courtyard, dinner table, pathways, parties, cafe, studying room bedroom and outdoor camping picnic with a wonderful atmosphere.